"Good-Bye, and Good Luck!"
Appreciation of and admiration for the Battalion was also expressed by Brigadier-General A.E. McNamara, commanding the 99th Infantry Brigade, when he bade it "good-bye and good luck" on February 25, 1919, when it left the 2nd Division to join the London Division.

"Owing to the reorganization of the Army of Occupation," he said, "the 23rd Royal Fusiliers, the oldest member of the 99th Infantry Brigade, is leaving it.

"I wish to place on record my high appreciation and admiration of the magnificent services of the Battalion while in the 99th Infantry Brigade.

"The Battalion came out to France with the 99th Infantry Brigade in November, 1915. Since then it has taken a leading part in all the many and strenuous battles in which the Brigade has been engaged. In these eventful three years we have seen together good times and bad, but whether things were good or evil the 23rd Royal Fusiliers have ever shown the same high discipline, esprit de corps, and indomitable spirit which eventually beat down all resistance and won the war.

Battalion Headquarters: Hornchurch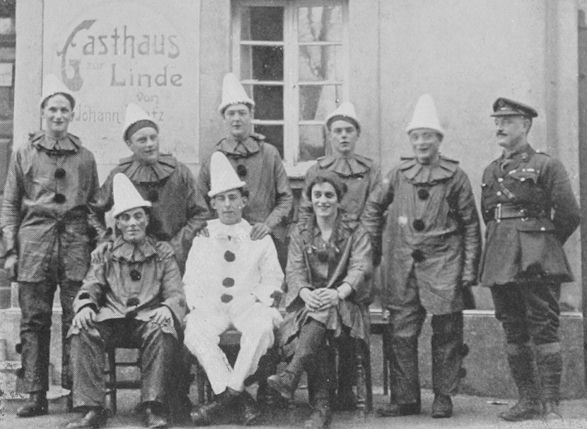 The Battalion Pierrot Troupe: Germany
"The battles of Delville Wood, Bourlon Wood, Ayette, Behagnies, Mory Copse, Canal du Nord, Forenville, and Ruesnes stand out in history as a record of the achievements of the 23rd Royal Fusiliers—a record of which the Battalion may well be proud.

"The Battalion is now going to another Brigade and another Division. I wish it the best of luck, and know it will maintain the high reputation for discipline, efficiency, and, if need be, fighting, which it has built up since its formation.

"In bidding it farewell, I wish to thank officers, N.C.O.'s, and men (including the gallant comrades who have fallen in the fight), for their gallant services when in the 99th Infantry Brigade. It is they who have borne the brunt of the hardships and the fighting, and it is they who have won the war.

"I cannot express how sorry I am to lose the Battalion, or how proud I am of the honor I have had of having had it under my command.

"Good-bye, and good luck!"
---
The 23 (Service) Battalion Royal Fusiliers, 1920